Erdoan decries US for communications campaign over jihadists death
A woman married to the slain Islamic State leader Abu Bakr al-Baghdadi has been captured and is in Turkish custody, Turkeys president, Recep Tayyip Erdoan, has said.
Erdoan made the announcement during a speech in Ankara on Wednesday but did not provide any further details. The United States said Baghdadi killed himself in a tunnel, Erdogan said, criticising the US for a communications campaign over the jihadists death.
But, I am announcing it here for the first time: we captured his wife and didnt make a fuss like them. Similarly, we also captured his sister and brother-in-law in Syria.
It is not clear when or how the unidentified woman was arrested by Turkish forces, but Ankara said earlier this week it had captured several of the jihadists relatives, including his elder sister Rasmiya Awad, in the northern Syrian town of Azaz, in Aleppo province.
The Isis leader blew himself and three children up in a tunnel after US special forces entered his heavily-fortified compound in Syrias Idlib province during a raid on 26 October.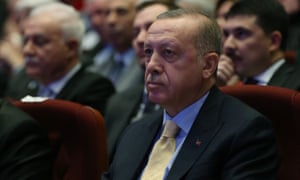 Source: http://www.theguardian.com/us