Aki Ra was a child soldier for Pol Pot, laying mines around Siem Reap. Now he is using his expertise to clear land in rural Cambodia and make it safe again
The rusty tailfin of the mortar round can be seen poking through the roots and mud of a small dirt patch, next to a skull and crossbones sign.
Aki Ra thinks the bomb could have been lying in rural Siem Reap, Cambodia, for 40 years. If it hadnt been found, it may have added another death to the approximately 20,000 people killed by explosives laid in the country from the late 1960s to the 1990s.
Ra, founder of Cambodian Self Help Demining (CSHD), and his team have found about 100 explosives in the two months theyve been sweeping this 23-acre (9.5-hectare) site in Chi Kraeng district. Despite handling the devices every day since 2008, when the CSHD was formed, none of its workers have been injured by them.
Just by cobras, Ra says. We cut grass, cobra lives there, bites hand. I cut the skin, push blood out. Three times, no deaths.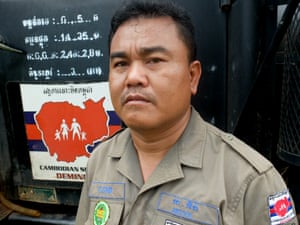 Source: http://www.theguardian.com/us