The terrifying consequences of the presidents sudden decision to withdraw US troops could include a reheating of the civil war
Future historians might remember Turkeys incursion into northern Syria, launched last week, as the second time that President Recep Tayyip Erdoan provided Islamic State with a lifeline, intentionally or not. The first was when Turkey opened its borders to foreign jihadists entering Syria, which ultimately enabled Isis to build a caliphate the size of Britain in 2014.
Both the time and manner of the intervention risk unravelling the situation in Syria beyond the buffer zone that Turkey intends to establish in the north-east. It will take the pressure off extremist forces and disturb a delicate equilibrium and the relative quiet that have existed in the country for about two years.
The move comes at a critical time in the fight against Isis, merely seven months after the collapse of the caliphate and while stabilisation and recovery are still in their early stages. In recent months, the US has stepped up efforts to improve local forces capabilities in detecting and removing sleeper cells linked to Isis and, under these circumstances, the group seemed to have been struggling to mount a large-scale insurgency.
President Donald Trumps decision allowing Ankara to invade areas previously protected by the US and controlled by a Kurdish-dominated coalition known as the Syrian Democratic Forces (SDF) took almost everyone involved in the Syrian conflict by surprise; the Wall Street Journal reported that a commander of the Kurdish force that spearheaded the fight against Isis stormed out of a meeting with the Americans after declaring: You sold us!
The Kurdish-dominated local forces still needed to learn how to deal with an underground insurgency that Isis and its previous incarnations so perfected in the years after the US invasion of Iraq. The counter-insurgency efforts proved different from and, at times, more challenging than the street-to-street fighting that the SDF conducted over the past five years.
The military intervention in northern Syria disrupts this process and distracts militia in charge of securing the former Isis areas that make up one-third of the country. Despite flaws, the Kurdish-led local forces chased down Isis from town to town and village to village. This operation involved a complex effort of collecting information and intelligence. These forces learned a great deal about how Isis operates and established counter-measures and a communication mechanism for reaching out to local tribes.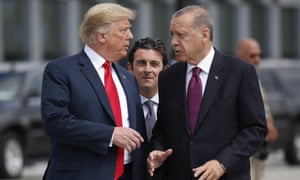 Source: http://www.theguardian.com/us