MPs voice outcry as Tokyo 2020 organisers say they have no plans to restrict use of flag that Seoul says has militaristic roots
South Korea is intensifying its campaign to ban the Japanese rising sun flag from being displayed at next years Tokyo Olympics, in the latest diplomatic row linked to the countries bitter wartime history.
In September, South Koreas sports ministry asked the International Olympic Committee [IOC] to ban the flag regarded by many Koreans as a symbol of Japanese militarism and colonial rule.
But having failed to secure a commitment from the IOC, South Korean MPs recently adopted a resolution calling for a ban on the use of the flag at the Olympics, describing it as akin to the Nazi swastika.
In September, South Korean media quoted An Min-suk, an MP in the ruling Democratic party, as saying: A flag symbolising war is not suitable for peaceful Olympic Games.
The rising run flag is akin to a symbol of the devil to Asians and Koreans, just like how the swastika is a symbol of Nazis which reminds Europeans of invasion and horror, he reportedly said.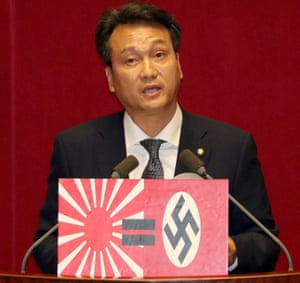 Source: http://www.theguardian.com/us