For a long time beauty routines only seemed to get more elaborate. But thanks to environmental concerns as well as questions about the effectiveness of layering products – some corners of the industry are finally arguing that less is more
The #shelfie is so pass. The trend for posting Instagram snaps of beauty cabinets stuffed with myriad, millennial-pink products looks set to take a downturn as customers spurn multi-step routines in favour of a more streamlined, sustainable approach to skincare.
In the UK, 28% of women have reduced the amount of products in their skincare routine over the past year, according to the research group Mintel, with the womens facial skincare market expected to fall to an estimated 1.16bn from 1.17 bn in 2018. As we move away from the K-beauty trends such as the now infamous 10-step routine, that led consumers to invest in a full roster of cleansers and multiple serums were now using less and spending less as a result. In a world ever more conscious of the ecological impact of the products we buy, an elaborate skincare regime no longer feels luxurious; it just feels wasteful.
I used to travel with bags full of beauty products, but now I take three or four things. As you become aware of your impact on the environment in all areas of your life, more feels unnecessary, says Zahra Broadfield a former Harvey Nichols beauty buyer who launched the beauty e-retailer SUSTBeauty earlier this month, rounding up products that adhere to strict sustainability and environmental responsibility guidelines. She believes that our increasingly minimal beauty routines are down to a combination of product fatigue and our growing awareness of over-consumption.
Previously the world of skincare was all about encouraging people to add boosters to their serums, or to use a separate moisturiser on their neck, an increasing number of brands now offer multipurpose products a cleanser that also removes makeup, or a night cream that gently exfoliates as you sleep. Broadfield recommends multipurpose oils, such as Malako Skin To Soul Saviour Oil, which can be used on skin, hair and in the bath, and cleansers that double up as face masks. If you have fewer things, you think a lot more carefully about why youre using them, she says.
Even in Korea, birthplace of the multi-step skincare routine, millennials are said to be turning to skip care skipping steps and products perceived to be superfluous. US Vogue described the movement as a reaction to the idea of an overly complicated multi-step routine.
The idea of buying fewer products has even become part of some brands business model. The new skincare line ADC Beauty comprises just one product: the High Performance Moisturiser. A plant-based face cream, its ingredients include chamomile to soothe, arnica to repair and mangosteen to purify. Its founder, Adam de Cruz, advocates a simple, two-step routine. Cleanse and moisturise are essential, and then an SPF if you are going to go out in the sun all day, he says.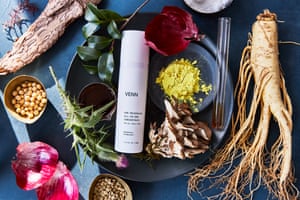 Source: http://www.theguardian.com/us