City council passed legislation to invest $1.7bn in road infrastructure over 10 years in move to improve safety
New York is set to build more than 250 new bike lanes and add 1m sq ft (92,903 sq meters) of pedestrian space in a landmark move designed to break the car culture of the city.
The city council passed legislation this week that will see $1.7bn invested in road infrastructure over 10 years in a move that it is hoped will transform city streets and dramatically improve safety for cyclists and pedestrians.
The New York city council speaker, Corey Johnson, who introduced the streets master plan bill and is anticipated to run for mayor in 2021, said after the vote: The way we plan our streets now makes no sense and New Yorkers pay the price every day, stuck on slow buses or risking their own safety cycling without protected bike lanes I want to completely revolutionise how we share our street space, and thats what this bill does.
This is a roadmap to breaking the car culture in a thoughtful, comprehensive way, and I am so proud to pass this bill today.
While cycling is on the rise in New York the number who ride several times a month grew by 26% between 2012 and 2017, according to the citys most recent cycling trends report more cyclists are dying.
So far this year there have been 25 cyclist deaths, the highest number in 20 years, and pedestrian and cyclist fatalities have risen by 24%.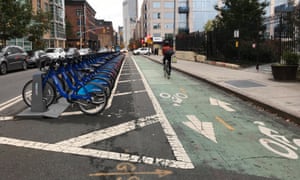 Source: http://www.theguardian.com/us