Secretary of state signals he will not comply with demands to hear depositions but witness are still set to give evidence, House says
Donald Trumps administration has sought to defy congressional demands to hear depositions from senior officials, in the first major battle of a rapidly growing impeachment inquiry.
On Tuesday, the secretary of state, Mike Pompeo, dismissed summons from Democratic committee chairmen in the House of Representatives for five current and former state department officials to testify on the presidents attempts to push Ukraine to dig up dirt on his leading political rival.
Pompeo wrote to the House foreign affairs committee, accusing Democrats of an attempt to intimidate, bully, and treat improperly the officials. The requested dates were not feasible, he said.
The speed of the investigation raises significant legal and procedural concerns, Pompeo wrote. I will not tolerate such tactics, and I will use all means at my disposal to prevent and expose any attempts to intimidate the dedicated professionals.
However, it soon became clear that Pompeo had only limited power to stop the congressional committees from gathering evidence for an impeachment inquiry. One of the five witnesses deposed, Kurt Volker, former special envoy for Ukraine who resigned last week, confirmed he would speak to the committees in closed session on Thursday, according to the Associated Press.
House sources were quoted as saying that a second witness, Marie Yovanovitch, former ambassador to Kyiv, would appear on 11 October, nine days later than originally scheduled.
And perhaps most damaging of all, the state departments inspector general, Steve Linick, who acts as an independent watchdog, informed the House committees that he wanted to brief them on Wednesday on documents concerning relations with Ukraine that had been obtained from the departments legal adviser.
It was unclear whether Pompeo had been warned of Linicks move.
Since Democrats announced the impeachment inquiry last week, the foreign affairs, intelligence and oversight committees have wasted little time in seeking documents and testimonies.
The committee chairs, Eliot Engel, Adam Schiff, and Elijah Cummings, dismissed Pompeos criticisms.
Any effort to intimidate witnesses or prevent them from talking with Congress including state department employees is illegal and will constitute evidence of obstruction of the impeachment inquiry, they said in a joint statement.
In response, Congress may infer from this obstruction that any withheld documents and testimony would reveal information that corroborates the whistleblower complaint.
Pompeo was assailed on Tuesday by former officials who saw hypocrisy in his expressions of concern over intimidation of foreign service officers. As a congressman, Pompeo regularly cross-examined diplomats over the 2012 attack on the US consulate in Benghazi, Libya, in an attempt to show that Hillary Clinton had been negligent as secretary of state.
State department employees are currently being subjected to questioning over emails they sent to Clintons private server when she was in office. According to the Washington Post, the employees have been informed that the emails have been classified retroactively and therefore could represent security violations.
Jeffrey Prescott, a former special White House assistant to Barack Obama, said on Twitter: This is the same Pompeo who removed a career ambassador from her post in Ukraine, and stood by as she was subject to smears.
The White House has stonewalled numerous congressional investigations. Last month it ordered Rob Porter, the ex-White House staff secretary, and Rick Dearborn, who was deputy chief of staff, to defy subpoenas regarding special counsel Robert Muellers Russia investigation. Analysts suggest Trump sees little downside in brazen displays of impunity.
The president and his allies have attacked the House impeachment inquiry relentlessly, while ramping up spending on ads for Trumps re-election campaign. In a series of tweets late Tuesday evening, Trump said efforts by Democrats amounted to a COUP.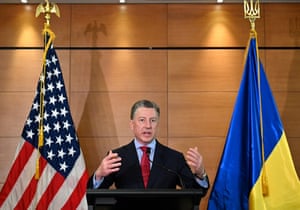 Source: http://www.theguardian.com/us