Seattle city council member Sawant won re-election earlier this month after beating out an Amazon-backed candidate
A single step inside the socialist Kshama Sawants office on the second floor of City Hall in downtown Seattle and a visitor knows exactly where the newly re-elected city council member stands politically.
One wall is plastered with every imaginable poster on policies shes pushed for, including rent control and $15 an hour minimum wage. One bright red poster says, Unionize Amazon and Tax Bezos in large white letters. It offers a glimpse into a potential upcoming battle for Sawant now that she beat her rival, the business-backed Egan Orion, despite his unprecedented financial support from Amazon.
The collection is her labor of love and frequently updated with the days latest struggles, says Sawant, who is sitting at a long table in her office Tuesday with a mason jar filled with apple cider (Its from PCC Community Markets, a local food cooperative whose workers, she happily reveals, are unionized).
Shes been up since well before 5am, juggling a day packed with media interviews and council meetings. But you wouldnt know it by the rapid-fire analysis she provides of her recent momentous win.
She says that she hopes other candidates like her across the world take note of this major victory.
The fact that a socialist who has been an unapologetic fighter for ordinary people and who has doggedly used a movement-building approach and shown herself to be extremely effective and successful, that you can win three elections, that should be extremely empowering for our movements, said Sawant, who will now be starting her third term in office in January.
Amazon, which is headquartered in Seattle, contributed $1.5m into the local city council elections by way of a political action committee sponsored by the Seattle Metropolitan Chamber of Commerce. The Civic Alliance for a Sound Economy backed her opponent, Orion, and six other candidates considered to be business-friendly. Only two of them ultimately won.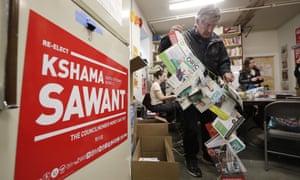 Source: http://www.theguardian.com/us