Smartphone comes with radar tech and is joined by revamped Nest Mini, Pixelbook Go and other devices
Google has launched its latest iPhone-competitor, the Pixel 4 and 4 XL, with new radar technology, dual-camera and a lower price.
Googles consumer hardware division unveiled a series of new devices in New York, led by the Pixel 4 smartphone and including an updated Nest Mini smart speaker and Nest Wifi system, among other products.
The Pixel 4 and 4 XL are two new Google-made smartphones that are designed to challenge Apples iPhone with new hardware and software technologies, plus Pixel-exclusive Android features, while undercutting it on price.
The Pixel 4s UK price is 669 70 less than last years Pixel 3, or $799 in the US, and it comes with Googles new dual-camera system, which pairs a wide angle 12-megapixel camera with a 16-megapixel 2x telephoto camera for up to 3x hybrid zoom. The new camera also comes with Googles next generation of its night sight technology, capable of capturing long exposures of stars in astrophotography mode and other low-light tricks.
Google has made its market-leading HDR+ computational photography system work in real time, displaying what the final image will look like in the viewfinder. Users will also be able to decouple and manually adjust the background and foreground lighting using a new feature called dual exposure. The camera technology aims to solving the problem of backlighting.
The Pixel 4 has a new 90Hz OLED screen, in 5.7in or 6.3in sizes depending on model, similar to that introduced on the OnePlus 7 Pro in May. It is also the first smartphone to come with Googles new Neural Core chip and local speech recognition technology for Google Assistant, which is capable of recognising natural language without having to send the data across the internet to Googles servers. The breakthroughmeans your voice data stays on the phone, allowing for greater privacy, significantly faster responses and the ability to work offline or in unreliable internet connectivity.
Google also built the technology into a new Pixel voice recorder app to provide offline real-time transcription and the ability to search through the recording. The Pixels biggest new feature is the integration of Googles Soli radar technology. The new chip enables hands-free gestures for a variety of functions such as silencing alarms, skipping tracks in music and interacting with new Pokmon Pikachu and Eevee wallpapers. It will also detect presence and is integrated into Googles new Face Unlock 3D facial-recognition technology, which mirrors that introduced by Apple with the iPhone Xs Face ID.
Geoff Blaber, vice president of research for the Americas at CCS Insight said: The inclusion of radar with Project Soli gives Pixel 4 some unique UI features through gesture control. Its unlikely to be viewed as game changing but it gives Pixel 4 some much needed differentiation in the smartphone sea of sameness.
With Huawei facing huge challenges, particularly in Europe, now is the time for Google if its serious about moving the needle with Pixel.
The Pixel 4 will cost 699 and the Pixel 4 XL will cost 829, both with 64GB of storage, shipping on the 24 October.
Google Nest Mini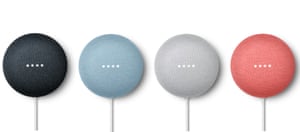 Source: http://www.theguardian.com/us