Produced by Stephen Curry and Viola Davis, the film allows the family members of those killed in the 2015 shooting to speak about love, loss and faith
Emanuel, a documentary on the aftermath of the Charleston church massacre, begins not at the scene of the tragedy on 17 June 2015, but with the larger reaction to it Daily Show host Jon Stewart at a loss for words, President Obama presiding over another press briefing for a mass shooting. But the film then jumps ahead in time, to Nadine Colliers kitchen in Charleston, South Carolina, as she whips steamed yams into sweet potato pie for her church, Emanuel African Methodist Episcopal. Four years earlier, Colliers mother, Ethel Lance, was killed when a white supremacist gunman opened fire after Bible study, killing nine black parishioners. The crime was an act of racial hatred so brutal, a violation of a sacred place so inhumane, that it shocked a nation already growing inured to the crushing pattern of mass shootings.
The headlines regenerated days later, when several family members of the victims, including Collier, tearfully forgave the shooter at his bond hearing a narrative of forgiveness controversially seized upon by the press as a feel-better cover for looking critically at the deep roots of racism in Charleston and beyond. (At the time, the Confederate flag still flew above the South Carolina statehouse in Columbia. Three weeks after the shooting, the then governor, Nikki Haley, ordered it removed and placed in a nearby Confederate museum).
The film Emanuel, produced by the basketball superstar Stephen Curry and Oscar-winning actor Viola Davis, takes the news blare of the tragedy and the intense outside focus on forgiveness into account, then zooms in closely to look at church, community and family: the victims relationships to the church, and how they loved. Why the families forgave, or did not, and still have not. The film features at least one representative for each victim, as well as numerous voices speaking to the history and culture of Charleston journalists, local newscasters, activists, historians and religious community members.
Its also an unabashedly Christian film, told from the perspective of a director, film-making team and cast deeply invested in their church and the Christian precept of forgiveness. But director Brian Ivie maintains that it holds lessons for a wider audience. The hope of the film is that it would show who these people are and what they believe, but it will also show how much work we have to do. And I think those things can coexist, he told the Guardian.
Ivie is perhaps not the most obvious choice to direct a documentary on the shooting at Emanuel. A white man from California, he was on his honeymoon when he received news of the tragedy. To be honest, I never wanted to make a movie about this, he said. I felt like it was the most inappropriate thing to do, given the media crush to cover the immediate aftermath. His unease was compounded by the intense focus on forgiveness, which started to Christianize the situation in a way that I know hurt a lot of people and forced a lot of people into an expedited healing process that wasnt necessarily healthy.
For me, as a white American, it certainly didnt feel like it was my place to go document the story, even to grieve what role would I serve in that? Ivie avoided the story for a year, but changed tune when he flew to Charleston to film the first annual memorial service as a gift to AME Emanuel. His producing partner, Dimas Salaberrios, an African American pastor from New York City, connected him with several victims family members, which began discussions of a potential film.
People were rightfully skeptical at the beginning, said Ivie, but he credited two promises in earning their trust. First, that they would not profit in any way from the film. Second, that they would honor the faith of their loved ones. Knowing that I shared their faith, said Ivie, I think that made them feel comfortable that I was going to honor the legacy of faith of their families, which was very important to them.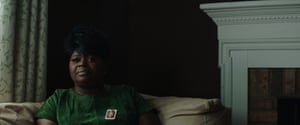 Source: http://www.theguardian.com/us