Activists block trade at Billingsgate fish market and target headquarters of energy company Shell to raise awareness
Climate protesters on Saturday intensified efforts to disrupt life in London, and targeted sites including Billingsgate fish market and Shells headquarters. They said police took at least 28 of their supporters into custody. That number means that more than 1,200 Extinction Rebellion activists have been arrested in London since their protests, over the governments failure to act over climate change, were launched last Monday.
And those detained include Belgian Princess Esmralda who was taken into a police van for questioning and held for about five hours after she joined a sit-in at Trafalgar Square on Thursday. The more people from all sections of society protest, the greater the impact will be, the 63-year-old said. Other protests launched on Saturday included one by more than 50 healthcare professionals wearing scrubs and singing the Extinction Rebellion anthem who gathered outside Shells headquarters before they marched to Parliament Square. We are meeting outside Shell because they are one of the biggest companies involved in the oil and energy industry, and they have real power to decarbonise that industry, said Alex Turner, 36, a paediatric and emergency doctor from Bristol. We are protesting illegal levels of air pollution.
Julia Simons, 23, a final-year medical student at Cambridge University, said: Our government has the responsibility to explain [climate science] to its citizens, to understand that if they dont act radically, that future which Ive been studying for wont exist. Hundreds of protesters remained camped in Trafalgar Square, where police were continuing efforts to remove them and the roadblock they had set up in Westminster.
Similar protests took place in many other countries. Dutch police arrested 130 activists in Amsterdam after they blocked a bridge in the centre of the city. Some protesters slumped on hammocks hung from pillars supporting the bridge to prevent boats from passing underneath.
In France, hundreds of activists blocked a route to the national assembly in Paris for several hours but were later dispersed by police. In Brussels, demonstrators occupied the gardens of the royal palace while in Melbourne protesters said they would hold a spring rebellion of civil disobedience this week including blocking traffic.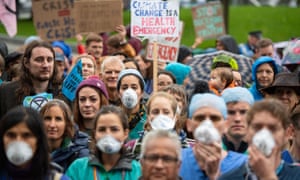 Source: http://www.theguardian.com/us