After 12 years in the Brooklyn indie band Chairlift and a magic mushroom epiphany Polachek has produced one of the years finest experimental pop albums
Caroline Polachek was writing about the danger of trying to change for somebody from her first hit with indie-pop group Chairlift. I tried to do handstands for you, she sang on 2008s twee yet melancholy Bruises, which made the Boulder-to-Brooklyn transplants ubiquitous after it was used in an iPod advert. The charming track caught the trio in a similar bind with their audience. Even when we released our second album, which was much grittier than the first, people pushed back and said: We want more Bruises, Polachek recalls.
To their credit, Chairlift never caved in. Over three albums, the trio-turned-duo easily outstripped the fast-diminishing Brooklyn indie scene of the early 2010s. She and Patrick Wimberley were as fluent in 80s Japanese pop, esoteric English songwriter Virginia Astley and opera as they were contemporary R&B; Beyonc ended up recording a Chairlift castoff, No Angel, on her self-titled fifth album. They split, amicably, in 2017, proud of their distinctive sound, says Polachek, if disheartened by the limited perceptions of what an indie band could become.
Polachek had released a pop album as Ramona Lisa in between Chairlifts second and third albums. An ambient record, billed to CEP, followed their split. The shifting names, she says, offered conceptual limitations that guided her work. Pang, her first album under her own name, arrives free from such scaffolding so much so that it was never supposed to exist. Thankfully, it does: its among the years finest experimental pop albums, blending acoustic and synthetic textures into a surrealist yet affecting listen. Co-producers Polachek and PC Music alumnus Danny L Harle wield elegance and precision worthy of a sushi master, or peak-pop Peter Gabriel.
After Chairlift split, Polachek felt her life lacked structure. I figured I would just try a bit of everything, she says over lunch in Paris last month. Shes here for fashion week and her outfit suggests someone at home there: a leather vest over a blousy white shirt that makes Polachek, with her striking, almond-shaped face and wide eyes, look like a modish Joan of Arc, whereas I would look like an employee at a medieval-themed restaurant. In summer 2017, she was in LA to write songs with Harle, the idea being to pitch them to Katy Perry. A magic-mushroom trip made her second-guess her plans. I remember thinking: what I do with my time right now is really going to determine what happens next, she recalls in her cut-glass accent. I shouldnt be wasting my time on things that I dont care passionately about.
When she called Harle to cancel, he suggested they write for her instead. Polachek had been making a warmer, auburn, folk-tinged, peaceful album titled Calico that she didnt see working with the hard, shiny, electronic sound Harle was known for. Still, she agreed. Perhaps inevitably, they came up with something that overshadowed Calico and kickstarted a fruitful collaboration. Their first song, Parachute, is about a total loss of control, says Polachek. And its not giving that control up to another person, its giving it up to life and thats the scariest thing.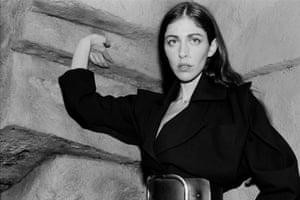 Source: http://www.theguardian.com/us