Demonstration against corruption and economic hardship was met with rubber bullets and teargas by police
At least 40 people were killed and dozens injured in Baghdad as police fired rubber bullets and teargas canisters in an attempt to disperse a protest on the streets of the Iraqi capital amid unrest sweeping the country.
Tens of thousands gathered in Tahrir Square in central Baghdad on Friday morning to begin the march to the citys fortified Green Zone, where government buildings and foreign embassies are located, but were blocked by police on the al-Jumhuriya bridge.
The demonstrators, protesting against corruption and economic hardship, pushed back but were met with volleys of teargas, some canisters exploding in the air and others whooshing to a white arch in the middle of the crowd.
Unlike in previous demonstrations the police did not use live ammunition. Medics said two protesters were killed when they were hit by teargas canisters.
Dozens of ambulances and rickshaws ferried young men suffocating or hit by the canisters. Volunteers distributed water and washed faces with cola or milk, while others prepared sandwiches and lunch.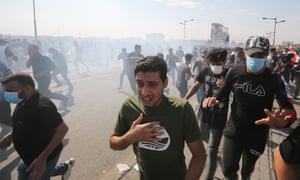 Source: http://www.theguardian.com/us