Crackdown begins on high-profile activists in Hong Kong and the mainland ahead of 70th anniversary
Authorities have arrested at least two high-profile activists as Hong Kong prepares to mark the 70th anniversary of the founding of the Peoples Republic of China on Tuesday.
A large demonstration organised by the group Civil Human Rights Front, which has organised previous mass protests, has been banned by the police, but protesters have vowed to turn out on 1 October to show their anger and frustration at the erosion of rights under Chinese rule.
On Monday activist Ventus Lau and actor Gregory Wong were arrested on charges related to an incident on 1 July when protesters barged into the legislature building and vandalised the chamber. Wong was accused of conspiring to commit criminal damage and entering or remaining in the Legislative Council chamber, said the pro-democracy Demosisto party, while Lau was accused of the same offences, according to the timeline of his Facebook account.
Meanwhile, Hong Kong leader Carrie Lam and a delegation of more than 240 people, including pro-China politicians, business leaders and media bosses flew to Beijing to attend Tuesdays celebrations.
In Beijing, president Xi Jinping and other top leaders paid tribute to Mao Zedong at his mausoleum and presented flowers at the monument of the Peoples Heroes in Tiananmen Square on Monday, which is Martyrs Day in China.
Chinese authorities have tightened security in the run-up to the national day celebrations. Propaganda billboards and banners with patriotic messages have been hung across Beijing, and there is a heavy police presence in and around the capital as well as strict security controls at metro and railway stations. Traffic is being controlled on streets near Tiananmen Square, where a military parade and the ceremony are scheduled to take place. Even at hospitals, non-emergency operations have been called off.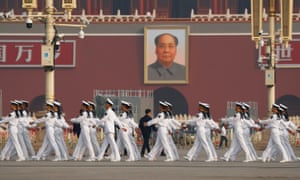 Source: http://www.theguardian.com/us