Disappointing earnings come as the company faces antitrust challenges and employees condemn policies
Alphabets stock fell as much as 4% in after hours trading after it reported it missed analyst expectations and posted a 23% decline in profit as it faces rising expenses.
Googles parent company posted earnings of $10.12 per share in its third quarter, lower than the $12.42 per share expected. Its quarterly profit fell 23% to $7.07, hurt by investments in research, development, and marketing.
Executives noted that the companys advertising revenue the bulk of its profit – hit $33.92bn in quarter three, compared with $28.95bn in the third quarter of last year. Alphabets total revenue of $40.5bn beat analyst expectations.
As weve often discussed, we manage our business for the long term and not on a quarterly basis, the companys chief financial officer, Ruth Porat, said on Monday. We remain very focused on continuing to enhance the experience for users over the long term.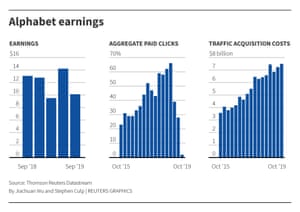 Source: http://www.theguardian.com/us